Hog Roast Fawsley were delighted to be asked by Mrs Marshall to cater for 50 guests at a garden party in Fawsley near Daventry.  We love catering for this type of event and it is a speciality of ours alongside corporate events and weddings, but we also know that careful planning needs to be considered to ensure that everyone's expectations are met.  First point of discussion is the menu and with six to choose from ranging from an entry level option to a formal dinner and buffet, there is a selection appropriate for any type of event, number of guests and cost.  In this case, Mrs Marshall wanted Menu 4 which is one of our alfresco options with the hog roast served on real crockery for a more formal feel.
There are many good caterers for this type of event but one of the things that makes Hog Roast Fawsley stand out is not only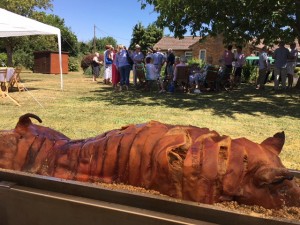 the professional service and the very high-quality food, but also the flexibility and adaptability that we have to be able to tailor our menus for the clients' requirements.  This was no exception and we always try to fulfil the client's expectation and requirements and wherever possible surpass them; we always welcome feedback and regularly receive very complimentary comments from young and old alike, and in this case, a choice of two desserts was also required and an extra bar person to serve drinks and tea and coffee.
The lunch was required at around 1.30pm and after arriving in plenty of time, we liaised with Mrs Marshall to discuss the finer details and started setting up the hog roast; here at Hog Roast Fawsley, we always believe that preparation is key!  We started serving when the guests were ready and as they had already got a whiff of the delicious aromas of the food that we were preparing, they were certainly ready for their food!  Needless to say, the diners were excited and delighted at the food we had to offer with very complimentary feedback on the quality and service that we gave.