When Hog Roast Lutterworth caters your party or event, we ensure that the food we serve is tasty and made from high-quality ingredients, and we strive to provide excellent service that we want to surpass your expectations. We've catered many kinds of social occasions over the years, from corporate functions to birthday parties, and just recently we had the great pleasure of catering a 40th wedding anniversary in Coalville. 40 years together also means it's a ruby anniversary, and in this case, the couple, Mr and Mrs Bryant, decided to renew their wedding vows on this very special day.
When Mr and Mrs Bryant booked our team at Hog Roast Lutterworth to cater their party, it was for us to feed 50 guests with a delicious meal of roast pork,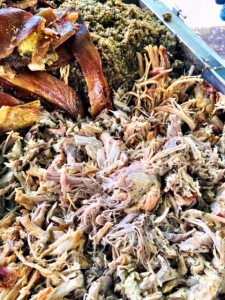 new potatoes, and several salad dishes. We actually have multiple salads for our customers to choose from, and on this day, we would serve a pasta salad, a tomato and mozzarella salad and a green salad. We love to provide variety, as we know that no two customers are the same, so whether you would prefer a different food to a hog or spit roast served, or in addition to, we have plenty of menus for you to look through, and you can even create your own tailored menu if you like. We also fully understand that you or some of your guests may have dietary requirements that need to be met, which is why we have various additional options for vegetarians, vegans and those guests with a gluten intolerance or allergy. If you need a different kind of special diet catered for, please feel free to ask for suggestions from us, as we really do want everyone to enjoy our food, so we will do our utmost to cater for them at your party or event.
On the day of the couple's party, it was so hot that we had to pop up our gazebo to block the sun from burning us and the guests! For the 3pm serve time, there was lots of lovely food for everyone to enjoy, and even enough for two portions each, and then Hog Roast Lutterworth quietly cleared away so that everyone could enjoy the rest of the celebrations.