Each year we grow from strength to strength we get more and more customers coming back and each year we cater the numbers of orders go up for hog roast Brigstock. We are very proud of our achievements over the past thirty years and always put one hundred and ten per cent into every single event and have the best staff ever who are there with us each step of the way.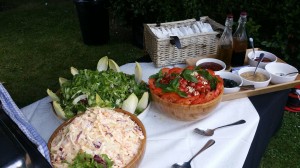 Mid week we were catering for a corporate event in town with a hog roast Brigstock, we have catered for them several times before and they just love our food! We arrived mid morning and were shown to the large hall in the building we set up the machine and placed a large brisket of beef on the machine to cook, we then set about preparing the potatoes we chopped and drizzled them in oil and covered them in our special mix of herbs and spices and set them onto roast. We then made a huge bowl of salad and added lots of fine vegetables such as lettuce, cucumber, tomatoes, celery, spring onions and courgettes. And placed the assortments of dips and condiments on the tables and we were just about ready to serve as the party arrived.
The guests took their seats and our waiting staff made sure everyone had enough to eat they were very impressed as the ate the beef and said they cannot believe that we produce meat like we do, but we tell them that our machines are the very best in the country so using the best equipment enables us to produce the finest meats. We left a pile of our cards as we always do and lots of guests picked them up as they left and came over to personally thank us for a wonderful meal. The Managing director of the company came over and thanked us and said his head office want us to cater for their Christmas party with another hog roast Brigstock we said we would be honoured to! We were told the number would be in the few thousand but nothing we cant handle and haven't done before, this year has been a good one!