At Hog Roast Stanwick, we are always striving to be the very best, serving top quality food, with immaculate presentation and excellent service. For a small private event, Kirsty hired Hog Roast Stanwick to put on a delectable banquet, requesting a full spit roasted pig, gourmet salads, our fluffy potato selection, crispy cracking and several fine condiments to compliment the meal.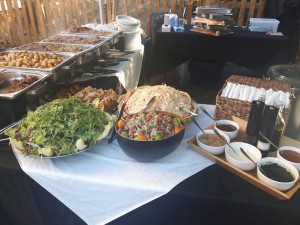 When we arrived at the venue, we were instantly assigned an area to set up, and having arrived early, we could begin setting up and have plenty of time to spare before the guests arrived. Assisting me was chef Megan and server Anthony, who are a great asset to the company and are dedicated to their work with us.
As guests were arriving they were instantly drawn to the tasteful smells that heated the air and the colourful spread that was presented. All of the guests couldn't wait to dig in, making comments about how much their mouths were watering. When Kirsty made the banquet available, all the guests rushed to get their food, there were gusts of excitement once everyone had begun to tuck in; all amazed by the succulent meat and melt in your mouth potatoes. Everything was perfect and everyone was happy. We received so many positive comments, and a lot of people mentioned that they were going to tell everyone about how the amazing food and service Hog Roast Stanwick provided.
After everyone had finished eating and began to enjoy the rest of the party, it was time for my team and I to pack up and clean the surrounding area. There was meat left over so we packed it to keep it fresh and gave it to Kirsty to have for the rest of the week. As we were leaving, Kirsty thanked us again and said she would highly recommend Hog Roast Stanwick to other friends and family, and that she will definitely be booking us again. We left the venue knowing we had finished another job successfully.