Welcoming a new member to the family is always an exciting time, and these days the celebrations start long before the birth! From pregnancy announcement parties to baby showers, there are plenty of events that are bound to keep yourself and your partner busy as you eagerly await your little one's due date. The most recent growing trend is, of course, the gender reveal party which sees parents-to-be come up with elaborate ways of sharing whether they are having a bouncing baby boy or girl with their family and friends.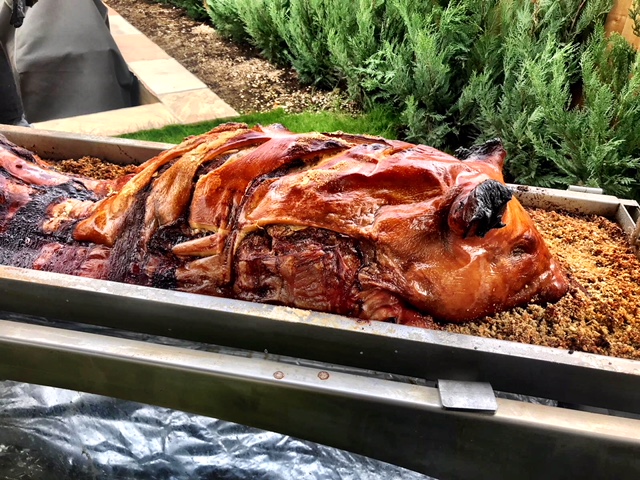 As Kayleigh approached her third and final trimester, she and her husband Samuel decided that they couldn't wait any longer to find out their baby's gender and began sending out invites for the occasion. With party preparations underway, Kayleigh got in touch with Hog Roast Lyddington and asked us to serve our hog roast dining menu at the monumental event which took place on Tuesday evening.
After arriving four hours ahead of the guests, the Hog Roast Lyddington catering crew began preparing a mouth-watering buffet of vibrant salads, creamy coleslaw and warm new potatoes which were centred by a succulent spit roasted hog joint and a meatless alternative of grilled veggie skewers with optional haloumi, flatbreads and tzatziki dip. Adding the final touches to the spread, the team set out a basket of freshly-baked gluten-free rolls and wraps and lined up the condiments and dips alongside a tower of crockery. With a little time left to spare, the team helped Samuel hang up the remaining banners around the house and put the pink and blue cake on display in the corner of the livingroom.
The party got into full swing after the last of the 40-something guests had arrived, and with the hog roast in full view from the conservatory, everyone was dying to get stuck in! Once their plates were spilling with tasty meats and refreshing sides from the buffet that Hog Roast Lyddington had lovingly prepared, everyone gathered around in anticipation of the moment they had all been waiting for: the gender reveal. Unable to hold it off any longer, Kayleigh and Samuel sliced into the cake, revealing they were having…a girl!