A Hog Roast Glinton feast can wow your guests and have them dreaming of our food for a long time to come, while being easy on your pocket and saving you a lot of time and stress. Whatever kind of special occasion you might be planning, from your wedding day to a milestone birthday or a corporate function to a baby's christening, our hard-working professionals will take the reins from your hands and take the pressure off of your shoulders, all the while providing delicious food that everyone you invite can eat.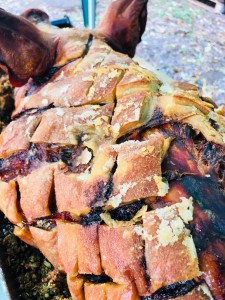 We're not just about sumptuous hog roasts (though they are our amazing signature dish), as we have so much variety and choice on offer that you won't believe your eyes. From speciality menus and alternative meats to options for special diets, as well as supplemental dishes like starters, desserts, hot and cold sides and canapés too, Hog Roast Glinton really does have something for everyone.
When James contacted us to book us to cater his private party, he was surprised by our wealth of possibilities and had a hard time deciding between our winter warmer, Southern Slow Roast and loaded fries menus, let alone our famous pigs in buns, a plated meal including a choice of meat, vegetables and potatoes or something altogether different like a barbecue of burgers, sausages and ribs. However, having been recommended to us by a colleague who had enjoyed our pigs in buns, James decided that would be a great decision, and also asked us to cook our spicy sweet potato wedges and freshly prepare our own coleslaw on the day too.
Hog Roast Glinton catered James' party at a local sports club yesterday, and a good five hours before his sixty guests arrived to party the evening away, our chef and catering assistants prepared the medium-sized pig from scratch and it then sizzled away slowly at a low temperature. Later in the day, we added the wedges to the inside of the machine, made our coleslaw, apple sauce and stuffing, sliced the fresh and floury bread rolls and arranged them with wraps and plenty of condiments, and by 6.30pm, we had a gorgeous feast ready to serve.