Hog Roast Brixworth is always on hand to turn birthday parties into memorable occasions with our wide range of catering packages and experienced staff who are experts at delivering exceptional customer service at an affordable cost. With her birthday just around the corner, farm owner Marie got in touch with our bubbly catering duo, Ben and Beth who were more than happy to talk her through our bespoke menus which cater to an all manner of dietary needs from vegetarians and vegans to those with food intolerances and allergies.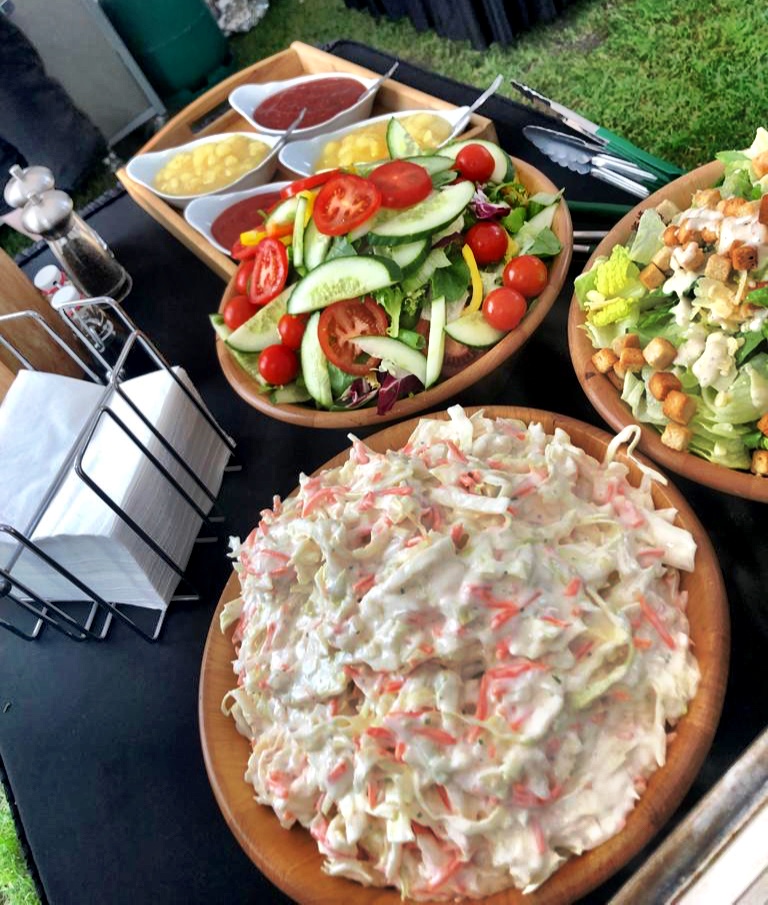 Relieved that Hog Roast Brixworth were able to offer something for each of her 80 guests, Marie immediately placed a booking for our private party menu 3 which combines a succulent slow roasted pig with a selection of moreish side dishes, gluten-free rolls, sauces and of course a couple of meat-free alternatives for those following plant-based diets. Grateful that the catering was now in the capable hands of Ben and Beth, Marie was able to enjoy the run-up to her special day without worrying about cooking, serving or even setting up the farm for the event.
With over six hours to spare before the scheduled arrival of the guests, Ben, Beth and the rest of the Hog Roast Brixworth catering team arrived on site to prepare the evening feast. Starting with the whole pig which was evenly scored and left to sizzle on a bed of savoury stuffing, they effortlessly whipped up a birthday buffet of warm new potatoes in herb butter, Caesar salad, gluten-free rolls and grilled vegetable skewers with optionable haloumi. Adding the finishing touches, the team laid out the eco-friendly wooden crockery and cutlery and lined up the condiments just in time for the first guests to arrive.
Birthday girl Marie was so impressed with the efficiency of the Hog Roast Brixworth team, but she was even more delighted with the feast that they had spent the afternoon preparing! Excited to tuck in, she and her guests filled their plates with generous helpings of the delicious grub and by the end of the night, it was clean plates all round.