It's been some time since Hog Roast Daventry last catered for a large scale event. So when a representative from Ingram Micro CFS Fulfilment Ltd got in touch with us to place a booking, our team couldn't wait to see what they had up their sleeves, and as always, our role was to help out by serving one of our mouth-watering menus!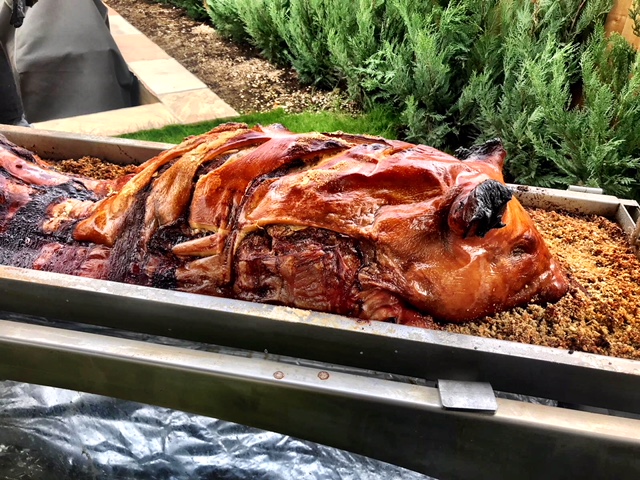 With up to 250 heads making up the event, the client described how keen they were for us to serve an entirely bespoke feast consisting of some of our traditional BBQ-style dishes like burgers, hot dogs and meat-free skewers. In addition to the main course, they had also asked us to include a drinks package in their booking, which on this occasion consisted of enough soft drinks for one per person.
Given the current situation, catering for a large group of people isn't quite as simple as it once was, so to ensure everyone felt safe, and the government guidelines were being followed, the guests were to be split into several smaller groups, meaning the event itself had to be staggered across several hours.
Masked up and rearing to go, the Hog Roast Daventry team consisting of Ben, Beth and Alistair headed off to the industrial state in the early hours of the morning, giving themselves 2 and a half hours to prepare before the first of many serves that day. Using our trusty HogMaster Pro, the unstoppable trio cooked up 150 BBQ 100% beef, homemade burgers with melted cheese and sauces, the same number of gourmet hot dogs with onions, ketchup and mustard, as well as 250 grilled vegetable skewers with chunks of Greek halloumi cheese, tzatziki dip and flatbreads.
With the wooden crockery lined up, cooler filled with ice-cool water and cans of juice, and the meat piping hot, the Hog Roast Daventry team announced that the food was ready to be served! Over the course of the next three hours, the catering crew worked seamlessly together to plate up the drool-inducing spread which went down well with every one of the guests who had attended.