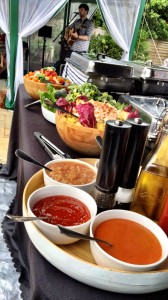 Hog roast Daventry are a fantastic catering company who offer a vast selection of delicious meats and buffets. This February we were contacted by Steph and her husband Daniel to cater for their wedding anniversary. We were requested to serve 70 guests and this was set up in a gorgeous gazebo, this was something our team could not wait to get involved in. The couple made the request that Hog Roast Daventry put on a full buffet that includes; slow roasted pork, exquisite fluffy bread rolls, three fresh salads, warm potatoes, sauce selections and even a vegetarian option!
On this occasion, there were three of us to cater the event. Greg and Molly being our chefs and I, the director, arrived early enabling us to set all the equipment up and ensure our buffet looked well presented. As soon as we had our set up position, the chefs began working on the food.
Steph and Daniel were the first to arrive and they were over joyed with the buffet that we had on display, they couldn't wait to dig in, and when the rest of the guests arrived, they requested the buffet to open immediately. Everyone was delighted by the immaculate presentation and the mouth-watering smells. There were continuous flows of excitement and positive compliments about our range of foods, everyone was helping themselves to second and even third helpings! Delicious, succulent and sensational were just a few words I heard the guests say. The buffet was a huge success and pleased the happy couple along with all of their friends.
When the event was ending, all the buffet had been devoured, which left us to tidy our work space and ensure the gazebo was emaculate so Steph had no worries about cleaning. Steph and Daniel briefly spoke to us at the end of the event about how they would love to hire our services again and will recommend Hog Roast Daventry to their friends.