Now that spring is in full swing, we've been spending a lot more of our time outdoors lately, like last Saturday when our caterers attended an exciting spring fair!
The fete had been put together on behalf of the local community by professional event organiser Samantha, who, having used our services in the past, was extremely keen for Hog Roast Dingley to be involved in this affair. And so, after speaking with our catering manager, Ben, about some of the different catering options we have to offer, she placed a booking for one of the most popular menus in our portfolio: the Gourmet BBQ spread!
Preparing to introduce locals to the sensational, smoky flavours of this tantalising menu, Hog Roast Dingley's caterers spent all morning grilling the meat options to perfection over real flames. And whilst the meat sizzled and hissed on the HogMaster, they roughly chopped vegetables and halloumi for the veggie and vegan skewers before rustling up two large bowls of Greek salad, a huge batch of coleslaw and a chafing dish that overflowed with sweet potato and regular fries.
As the time ticked on, other stalls began popping up around our own; some of which were offering fresh-baked pizza or homemade doughnuts and pastries while others sold handmade trinkets or soaps. There were also popcorn and candyfloss carts as well as fairground competitions, games and rides for the younger ones to enjoy. By the time the locals began to arrive, the atmosphere was buzzing and filled with mouth-watering aromas from all of the gorgeous food on offer!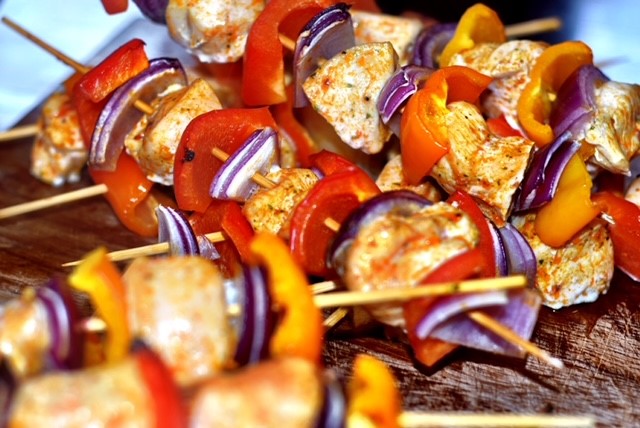 We're happy to announce that Hog Roast Dingley's stall remained busy all afternoon as everyone was keen to get a taste of our beautiful-smelling food for themselves. With a choice of either handmade 100% British beef burger patties, succulent chicken kebabs, BBQ marinated meaty spareribs and our chef's own gourmet sausages to choose from, not forgetting the range of delectable sides, the attendees didn't have any difficulty finding something to their taste. In fact, we found that many of those who tried our food wanted to take down our details for future reference!