Joint birthday celebrations are double the reason for a celebration, regardless of the kind of party you wish to host! At Hog Roast Bugbrooke, we have a variety of different menus, with one that is ideal for every occasion. Whether you are in need of a sit-down meal or a casual buffet, our team are on hand to help!
Hog Roast Bugbrooke recently catered for a joint birthday party, celebrating a 31st and a 3rd birthday! Our catering manager was hired to provide a menu for 40 guests to enjoy, including guests of all ages. Hog Roast Bugbrooke have a variety of family-friendly menus, so we were more than happy to get involved. After looking through the packages that we can provide, our client chose a classic-hog roast, followed by a selection of delicious desserts.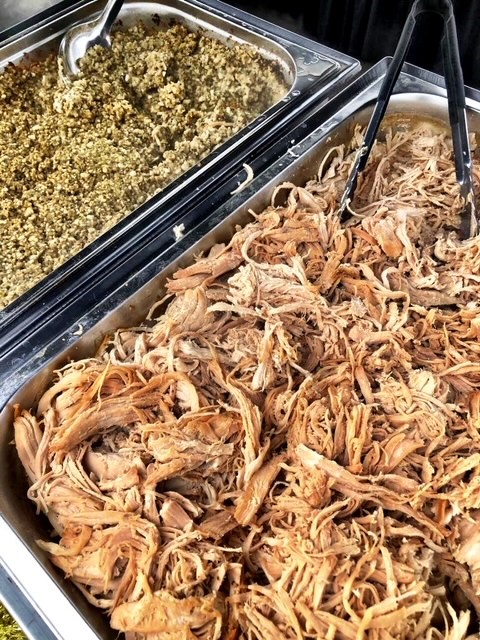 On the day of the event, our catering manager Ben arrived at the venue, which was a local cricket ground. He began by preparing the hog and ensuring that it was expertly roasted to perfection. Once ready, he carved it and served the meat in fresh bread rolls, or a gluten-free alternative. For vegetarian guests, Hog Roast Bugbrooke also served BBQ pulled jackfruit, which is a delicious meat alternative. Alongside the main dishes, the guests also enjoyed seasonal vegetables and homemade chips, which created a delicious and balanced meal.
Following the main course, the guests then enjoyed a selection of delicious desserts. Hog Roast Bugbrooke served vanilla and chocolate cheesecakes served with vacherins. The desserts looked and tasted incredible, creating a tasty final course of the event.
It was great to see our catering going down so well with the guests and our menu was the perfect addition to this joint birthday party!
Do you have a private party approaching in 2022? If so, get in touch with Hog Roast Bugbrooke today to secure your date! To find out more, simply let us know your party size, date, and location and we can do the rest. We hope to hear from you soon!