The latest event that Catering Team Ben and Beth from Hog Roast Gretton worked at was a unique festival themed wedding. The happy couple wanted tasty food for their 105 guests, but felt that it was important that the menu be fun and diverse as 25 of their guests were children. They wanted the menu to be fun for everyone, which is exactly what Ben and Beth from the team delivered!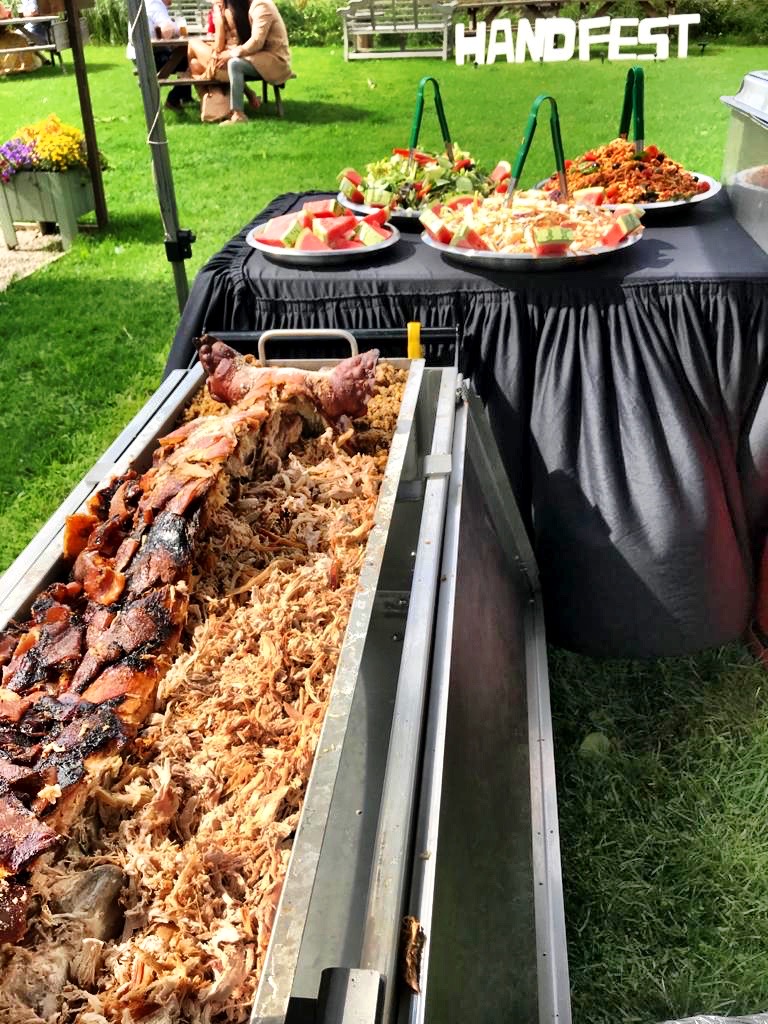 As the wedding reception was taking place at Bridge House Barn there was plenty of private space for Ben and Beth to set up the catering equipment, gazebo and serving table. They arrived several hours before the 2pm serving time, this allowed them enough time to set up the equipment and then create all the dishes fresh on site.
Part of the catering package paid for by the happy couple included the use of Hog Roast Epping crockery and cutlery. For this event the clients selected to use high quality reusable wooden bamboo crockery and cutlery, which would be gathered at the end of the buffet and taken off site by Ben and Beth; along with the rubbish generated through the catering.
The menu for the buffet included the taste bud favourites of Classic Hog Roast: a slow spit roasted pig served with crispy crackling, apple sauce and homemade stuffing. That wasn't all however. There was also a mixture of normal and sweet potato chips, crunchy coleslaw, mixed salad, platters of pasta salad and soft gluten free rolls for everyone to tuck into.
The food was a hit with the guests, they went round the buffet until their hearts content. The children were also very happy with the food at the serving table, the chips were an especial favourite!
Hog Roast Epping delivered a buffet that was absolutely perfect for the festival theme, the clients were thrilled with Ben and Beth's hard work. The clients say that it was a perfect day with a wonderful buffet, it was all they had dreamed of and more besides.