As summer draws to a close in the UK there are a few final sports presentation evening left to attend. Hog Roast Raunds latest catering event was an evening of Rugby Presentations. The fabulous team was hired and arranged by Matt to put together a delicious buffet for the evening.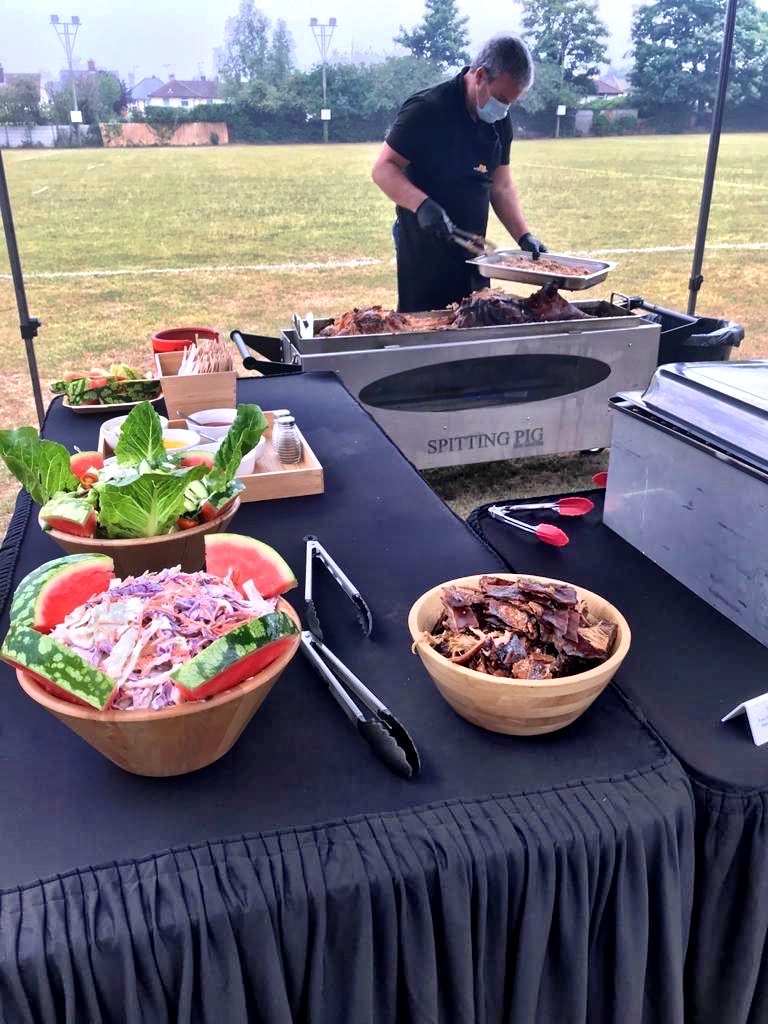 The serving time for the buffet was 5-6pm and the buffet had been prepared fresh at the Newmarket Rugby Club by Catering Manager Ben and his two assistants Beth and Alistair. There was plenty of outdoor space for the team to work in. The small team arrived at the venue several hours before the serving time, they set up their cooking equipment and catering gazebo and then got straight to work on preparing the platters of perfection for the peckish presentation guests.
With up to 60 people to feed The Hog Roast Raunds team knew they needed to put together a buffet that had plenty of options for all tastes and dietary requirements, and between Catering Manager Ben, Beth and Alistair that is exactly what was prepared for the party goers. There was a Classic Hog Roast, complete with crispy crackling, stuffing and apple sauce. However, there was also vegetarian and vegan options too. There was a platter of grilled vegetable and halloumi skewers and there was also BBQ pulled jackfruit as the tasty vegan choice. Rounding off the wonderful buffet was a platter of gluten free rolls, fresh mixed salad and crunchy coleslaw.
The guests were given Hog Roast Raunds high quality re-usable wooden bamboo crockery and cutlery to use at the buffet. Another part of the package the clients paid for included the team taking all rubbish from the buffet and food preparation away from site with them, leaving the clients and guests able to focus on the presentations.
The buffet the team produced was loved by all the guests and the clients, it was eagerly gobbled up and the team were very satisfied with the positive feedback they received. It was a wonderful evening and Hog Roast Raunds look forwards to working with Newmarket Rugby Club again in the future.