These days, many brides and grooms are ditching formally styled weddings in favour of the more relaxed trends that have taken the world by storm, since they better allow each couple to show off their own individual tastes. As well as being less stressful than their traditional counterparts, these modern celebrations are very easy to plan for, especially for those who have enlisted in the help of Hog Roast Sulgrave.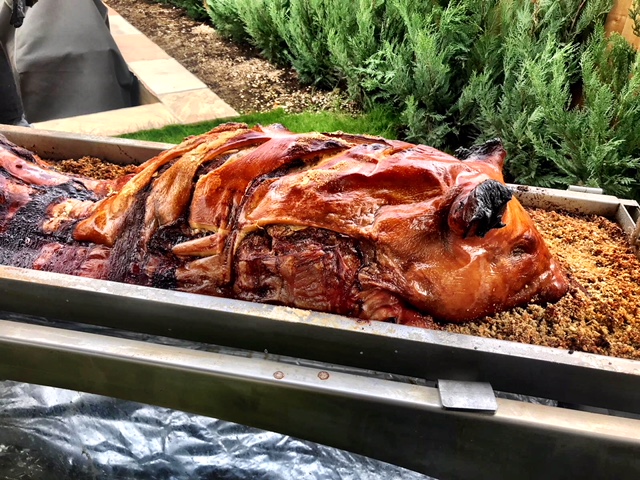 Because we know that choosing a menu is one of the most important decisions couples will make ahead of their big day, our dedicated team has made it easy to keep up with the latest direction that the wedding industry has taken through our expansive selection of catering packages, which cover all themes and budgets. Last weekend, the wedding our team had been looking forward to for months, finally came around.
To celebrate their love and the joining of their two families, Darren and Kirsty had spent the past year planning an industrial-style ceremony. As the pair exchanged rings, the Hog Roast Sulgrave catering crew travelled to the out-of-use, character-filled chapel that the pair had chosen for their reception party where they immediately began setting up the cooking equipment in preparation for the wedding breakfast.
With the authentic stained glass windows and traditional architecture shining through the dilapidated aspects of the building, which had also been decorated with pillar candles and copper accents, the venue was the perfect match for Darren and Kirsty's unique wedding. Ahead of the guests' arrival at 3pm, Hog Roast Sulgrave had created an equally stunning feast based on our southern slow-roast menu which featured cajun spiced whole roast chickens, fall off the bone Louisiana sticky pork ribs and creole pulled quarter of spiced lamb along with finger-licking buttery corn cobbettes, creamy mac and cheese, sweet potato wedges and seasonal salad.
For Darren and Kirsty, their special day was everything they had hoped it would be and more, and after toasting the next chapter of their relationship, they announced the buffet table open for business – much to the delight of their guests. With an intimate gathering of 25 people in attendance, there was more than enough food to go around, giving everyone the chance to return for second and third helpings.