Traditional Hog Roast catering is becoming increasingly popular for any style of event or celebration. It's a perfect way to cater for a large and even small group of guests with delicious food that everyone can enjoy. Regardless of any personal needs, we can cater for any dietary requirement with prior notice. It's the exact reason why Julie chose our team to cater for her party this year.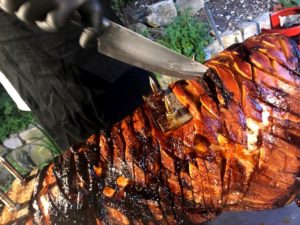 Julie said her family is made up of fussy eaters, dietary needs and of course very hungry bellies! The Hog Roast Wansford team love a challenge and were happy to be able to cater for Julie and her 50 guests. After speaking with Julie we knew we had a mixture of carnivores, vegetarians, vegans and gluten intolerant guests who all needed to be catered for with equally as quality food as the main hog roast show. Julie's main request was that all the guests would enjoy a similar meal together so that nobody would feel left out or that they had to have something completely different. We then suggested our slow roasted juicy pulled pork for the majority of the guests, with vegetarian and vegan friendly burgers as an option too. All guests could then enjoy a lovely plate together. We did also bring along gluten free bread rolls and wraps to ensure that we could again still cater for all guests.
Normally finding something suited for the whole family is quite a challenge and Julie would normally have to put on extra food herself for some guests, but with the Hog Roast Wansford's flexible menus she was very impressed that all 50 guests loved their rolls! Many even had a little bit of room left to come back for seconds too! All of our menus can be designed to suit your exact requirements and we can tailor any menu or even create a bespoke menu specifically for your event. As we packed away on the day Julie had nothing but compliments coming our way and we hope to see Julie and her family again soon.