We've had the pleasure of successfully catering many different types of parties and events over many years now. If you have a celebration or occasion coming up and need excellent caterers who care about fresh, quality food from the best suppliers, then give us a call to discuss your requirements.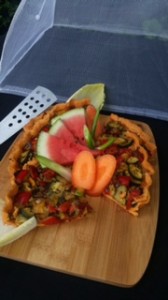 Elena did just that a few weeks ago as she wanted a quote for a surprise hog roast in Silverstone for her daughter's 18th birthday party at a swanky hotel in the countryside. We explained all of our various options and Elena decided she wanted our infamous hog roast rolls (we call them pigs in buns!) as well as a few salad dishes. We have many menus that you can choose from but we're also happy for you to create your own bespoke menu if you so choose. In this instance, Elena wanted our special tomato and basil salad and our tasty carrot and orange salad that's smothered in a lovely sesame dressing. That was in addition to a homemade vegetable tarte for the non-meat eaters.
Elena's daughter's party was held in the hotel gardens over the weekend and, British summer weather being what it is, it was predicted to rain. This wasn't a problem for us, however, as we took along a large marquee tent to protect the 40+ guests from the August showers. We can cook a hog roast  in Silverstone inside the marquee too, so your event never has to suffer the elements. Once we had prepared the hog and started to slowly roast it, Elena marvelled at the wonderful smells wafting around inside the marquee and said she knew there and then she had made the right decision with the food catering.
We prepared the salads fresh at the venue as we always do, sliced the bread rolls and dished out the apple sauce and stuffing. When the birthday girl arrived, she was blindfolded and walked round to the marquee for her surprise party. She should have had her nose covered, too, though, as before she even got there, she squealed that she knew it was a hog roast in Silverstone by the amazing smell!
As everyone cheered and raised a glass, I carved off lots of crispy crackling and sliced into the meat to start making delicious pigs in buns for lots of hungry guests.