Hog Roast Oundle had a festive drop-off Monday. A drop-off is when the food is delivered for the customer to enjoy at their leisure in the comfort of either their workplace, venue or home. It has been a popular option this year due to covid as it is particularly covid-safe.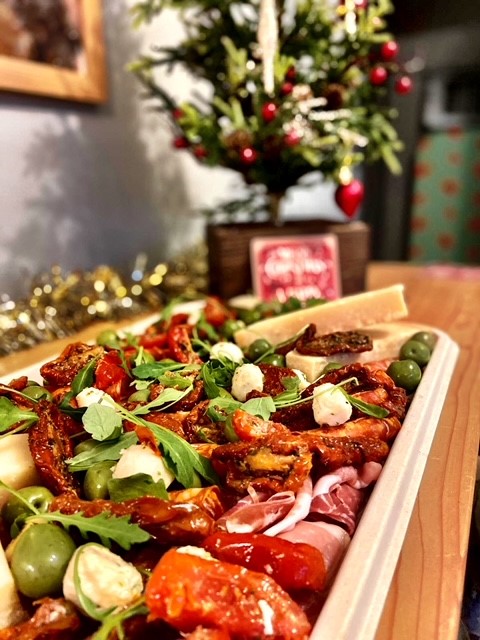 Becky of Weatherbeeta organised a tailored menu with catering manager Ben for her 15 guests. Becky chose a three-course meal for her guests to enjoy starting with Hog Roast Oundle's Antipasti platter. The platter consisted of various fine meats including salami, Parma ham, chorizo and pepperoni as well as flavoursome cheeses including buffalo mozzarella, mozzarella, Parmigiano-Reggiano and Gorgonzola. Catering manager Ben's favourite part of this platter is the mozzarella sticks wrapped in a thin slice of chorizo – delicious! In addition, sun dried tomatoes, olives and rocket are added for extra flavourful nibbles and compliment the gourmet cheeses and meats perfectly. 
The main course consisted of tender and juicy roast chicken and stuffing served with a selection of bread rolls, a fresh colourful mixed salad and homemade coleslaw. The main event was the divine Dauphinoise potatoes which were seriously creamy. The chicken, stuffing and potatoes were delivered piping hot to be consumed at the 12:15pm serve. 
The desserts consisted of Hog Roast Oundle's deliciously tasty treats of chocolate torte and Vacherin of strawberries. Both as mouth-watering as the other. To ensure that everyone got to try both, 15 of each was made and delivered. The chocolate torte was a sweet chocolate biscuit base with a dark, rich chocolate mousse sitting on top and finished with a spoonful of whipped double cream. The Vacherin of strawberries was a medley of whipped double cream and fresh strawberries sitting on top of a light and fluffy meringue and finished with a sprinkling of dark chocolate coco powder. 
The three courses were delivered in temperature consistent containers at midday. All the food was enjoyed by all guests and catering manager Ben received a lovely email from Becky claiming that the food and service she received was superb and was thoroughly enjoyed and that they look forward to working with Hog Roast Oundle in the future – brilliant!