Hog Roast Milton dream team, husband and wife Ben and Beth, had the wonderful opportunity to cater for an automotive giant last Friday. The event had been booked as a celebration for the car branch having an impressive quarter, because apparently lockdown and a global pandemic means furloughed people have more time to look for new cars!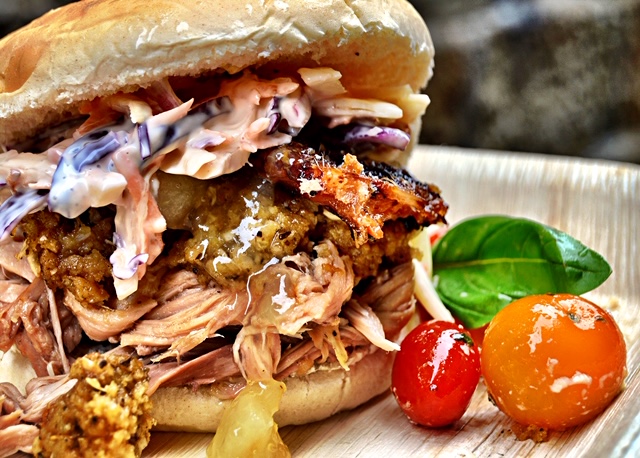 As the 12:30 serve arrived, the catering managers invited the guests to start digging into the succulent pulled pork, to-die-for sage and onion stuffing, crispy crackling and selection of sauces. A Hog Roast Milton trick to make the sage and onion stuffing so amazingly tasty is to mix it in to the pig's juices as it cooks giving it an extra flavour of yum! Of course, we always provide the traditional apple sauce to accompany the pork and stuffing roll, but it seemed that our sweet chilli sauce was the new 'apple sauce' for this bunch. Something that helps Hog Roast Milton stand out from other Hog Roast companies is their selection of rolls and wraps, always catering for additional allergy needs such as gluten and dairy free. The 90 guests were very happy that they could have a choice of roll and many were delighted with the pork and stuffing wraps which provide that slightly healthier option (you also fit more inside it which means more heavenly goodness – yay!).
With knowledge that quite a few of the workers at the branch were vegetarian and vegan, our catering managers went the extra mile providing more than just the usual grilled halloumi and Mediterranean vegetable kebabs (which are super delicious and always go down a treat!), but also adding a homemade goats cheese and caramelised onion quiche and a mixed vegetable couscous salad; the vegetarians were overjoyed that they were given an option.
Due to the current climate, Hog Roast Milton priority is the health and safety of our guests and therefore took all the covid-safe precautions such as wearing masks, having a two-metre distance between them and their guests, serving all food including sauces and providing hand sanitiser. The hand sanitiser was placed in an adorable pig basket to go with the theme of the client's hog roast menu.
Hog Roast Milton team always aims to please by adding personal touches to the serving tables for instance, this time they brought a chalk board with their personalised menu written on it, as well as giving their correspondence, lovely Diane, a galaxy chocolate bar as a token of their appreciation for the booking. We're ecstatic to say that Diane was thrilled with service and divine food Ben and Beth provided and has since expressed her gratitude online which is always great to see.