It's been an odd sort of year, but Clients Rose and Chris were absolutely determined that for their 10th/Tin wedding anniversary they would have a celebration. They immediately contacted the Hog Roast Milton team about their event and went into planning mode for their intimate celebration.
The happy clients worked closely with the team to put together a menu for their event. There was a guest list of 10, including the Clients themselves and they had hired a pub for the day for their party.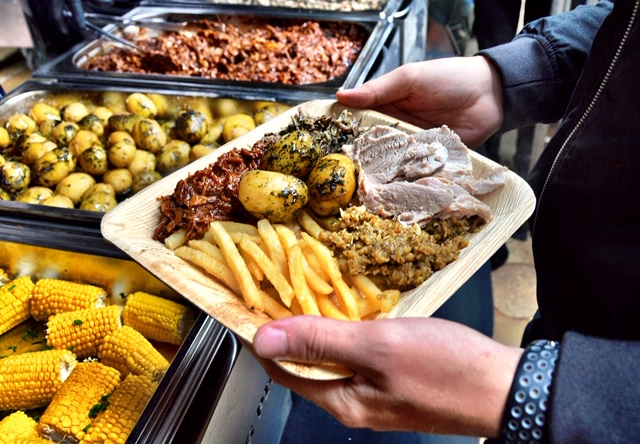 Chef Ben from the Hog Roast Milton team was tasked with bringing the buffet to life on the day of the event. He arrived at the pub venue several hours before the 5pm buffet serving time. This allowed him plenty of time to set up the cooking equipment in the sectioned off area of the pub, he then got straight to work on preparing and producing all of the dishes that would be eaten by Clients Rose and Chris and their guests.
As well as providing the food and Chef Ben to cook it all, the Clients catering package also included the provision and use of disposable crockery and cutlery. These disposables were then collected back in by Chef Ben at the end of the buffet, and then along with any rubbish from the food was taken off site by the team and later disposed of in a safe and sensible manner.
When Clients Rose and Chris led their guests to the buffet at 5pm the serving table was piled high with lots of tasty dishes. There was a Classic Hog Roast- a slow spit roasted pig served with crispy crackling, homemade stuffing and apple sauce. Alongside this there was platters of grilled vegetable and halloumi skewers and BBQ pulled jackfruit. The rest of the buffet was compromised of Chefs choice of 3 freshly prepared salads, a large platter of sweet potato fries and a basket of gluten free rolls.
The guests were delighted! The Clients and their guests tucked into the food with gusto, the buffet menu was a great success with everyone. As Chef Ben quietly tidied away once the guests had had their fill he was pleased, everything had gone off without a hitch.