Are you in search of budget-friendly catering that tastes sublime? Well then look no further than Hog Roast Bourn!
With decades of practical experience at our backs and a reputation for being the number one caterers in our field, you can always rely on our team to deliver an outstanding service whatever the occasion. From christenings to weddings and corporate functions to lively discos, we have spent years perfecting our broad selection of customisable menus to suit any event you can think of.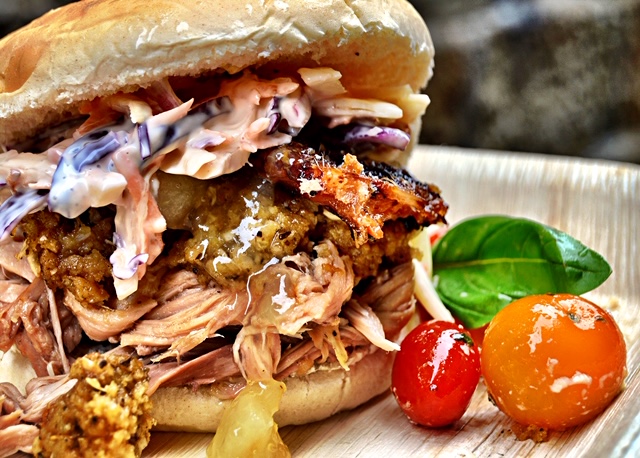 Above all, we know just how important it is for things to run smoothly at your event. And because it's important to you, it's also important to us. Which is why with each booking, Hog Roast Bourn pledges to be on hand through every step of the way, ensuring you receive a stress-free and professional service at all times.
This year, our dedication to our customers has been more important than ever before. And we're pleased to say, this has alleviated some of the pressure that a lot of our clients were facing. For engaged couple, Caleb and Nicole, who had spent much of the past two years fantasising and planning for their big day, the news that they would have to cut their guest list quite considerably came as a shocking blow.
The accommodating nature of Hog Roast Bourn was a definite silver lining for the couple, who were able to adjust their menu with ease, mere weeks before the big day was set to take place! Instead of a fully-catered for service with waiters, a drinks service and formal dining, the pair simplified their wedding breakfast to revolve around our private party menu 3.
Despite the last-minute switch up, Caleb and Nicole had a wonderful time celebrating with a small handful of family and friends – and everyone loved the food! The gorgeous, spit-roasted pig with all the trimmings instantly stole the show, and with so many side dishes to choose from, everyone's cravings were satisfied.
Adding the final touch to the big day, Hog Roast Bourn sliced and dressed the wedding cake in ripe berries, summer fruit coulis and fresh cream.