Last Friday saw time-served catering double act, Ben and Beth from our Hog Roast Fawsley branch travel quite some distance outside of their usual area to Milton Keynes, after being hired by Mercedes-Benz to cover an important corporate lunch.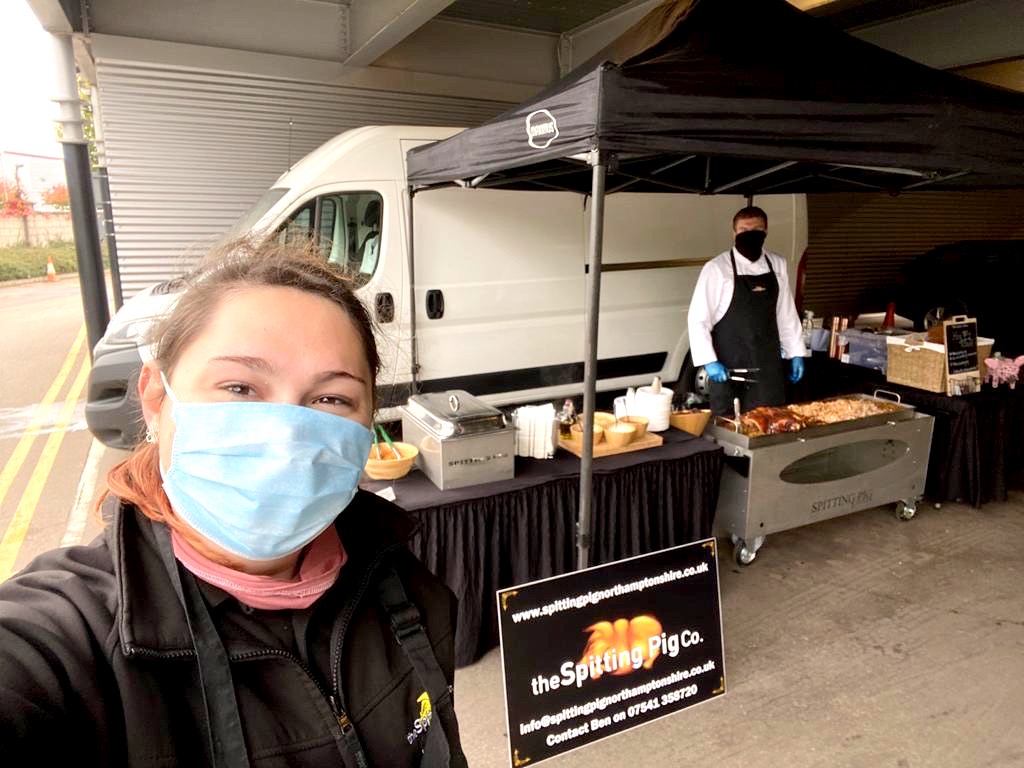 The event, which had been arranged by company representative, Diane, was intended as a treat for 90 customers and clients of the automotive giant. So, with high expectations to meet and a large number of people to impress, the Hog Roast Fawsley team were as eager as ever to ensure the function went off without a hitch. If you know us though, you'll know that we smashed it.
With the temperatures dropping, Ben and Beth knew it would take longer for the meat to cook fully through – as is always the case at this side of the year due to the heat loss from the spit roasting equipment. To combat this minor inconvenience, Hog Roast Fawsley made sure to arrive on-site one hour earlier than usual, which gave them plenty of time to get everything ready for the 12:30 pm serve.
Before too long, Ben and Beth found themselves inviting the guests to dig into the mouth-watering creation, which included all of the most popular dishes from our classic hog roast menu.
The slow roasted pig had been carved up and served as a variety of pulled pork and crispy crackling, which tasted divine when added to the gluten-free rolls. In addition, Ben and Beth had also prepared our famous sage and onion stuffing (which is cooked in the juices of the pig for extra flavour) along with a meat-free option of grilled vegetable and halloumi kebabs – and as a finishing touch to the serving station, a pig-shaped basket that contained hand sanitiser was added.
Hog Roast Fawsley always loves hearing back from our clients after an event takes place, and this occasion was no different! We're so happy to reveal that Diane was over the moon with the service Ben and Beth provided, particularly because the pair dedicated a lot of their time to ensuring that everyone was well looked after during the event. Diane also couldn't believe how wonderful the food tasted, and she has since expressed her gratitude online, which we always appreciate.