Did you know that 50% of people choose where they dine based on eco-friendly credentials (Nisbets, 2019)? With this in mind and Hog Roast Witchford being environmentally conscience, catering managers have done their best to ensure eco-friendly practices.
To reduce Hog Roast Witchford's carbon footprint, all food is locally sourced: salad, fruit and vegetables sourced at a local greengrocers and meat sourced by local butchers. Using local businesses also helps the local community and reduces air pollution as everything can be sorted in one round trip.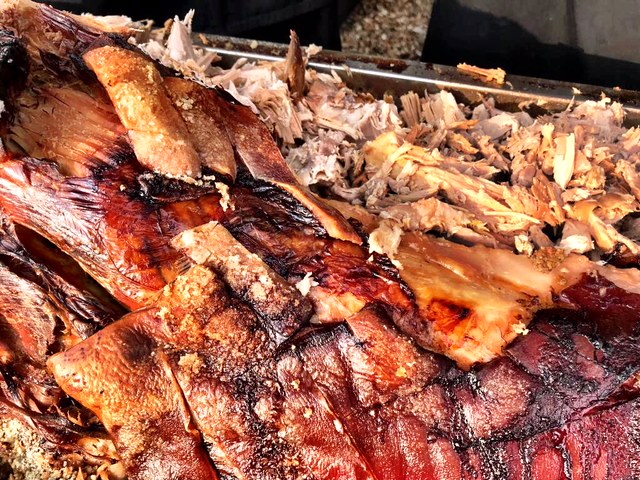 In the past two years, Hog Roast Witchford have introduced eco-friendly food packaging such as compostable boxes and bamboo plates that are biodegradable. The great thing about bamboo plates is that they are brilliant quality and pleasing to the eye by giving a rustic vibe. Clients have been very impressed with them.
Waste can be a big issue for caterers however, catering managers have implemented systems so that waste can be reduced. For instance, reusable table clothes and food platters and bowls are used. Any leftovers (when there are any!) are donated to the local charities such as feed the hungry. Donating leftovers means that Hog Roast Witchford can help people in need in their community which is something close to their hearts. Another part of wastage is water. It's easy to run a tap to clean food or swill off excess food/sauces on platters however, this is damaging to the environment. To prevent this from happening, catering managers make sure that they use a bowl or plastic container to wash the fruits, vegetables and salad. When it comes to washing up, they have two sink compartments. One for a quick rinse to get any excess waste off, and another to do the thorough clean.
Hog Roast Witchford is always looking to improve their business to be more environmentally friendly where possible. Catering mangers are currently looking at changing their chafer fuels to the eco-burner. These are refillable devices and produce 75% less carbon emissions. Another idea they are looking into is ensuring that all their appliances are Energy-Star certified since they are more efficient and helps to reduce their carbon footprint.
Clients appreciate the effort put in to helping the environment and fighting against climate change and we have become well respected because of it.