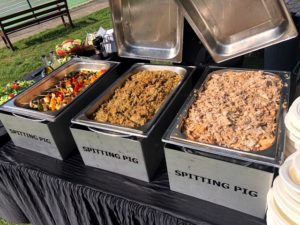 Summer 2021 will be one to remember, with lots of lost time to make up for after a year of lockdowns, social distancing, and social restrictions. For a lot of people across Britain, this will be a summer filled with parties, events, socialising and delicious food. As restrictions ease, Hog Roast Laxton can begin to resume our usual catering services, including buffets, alfresco dining and formal, sit-down meals.
Whether you are wanting to cater a private party, a corporate event, or a wedding, we have got you covered. With over 5 menus for each, packed with different dining styles, dishes and price points, we have something to suit everyone.
Private catering
Catering for private parties is always great fun- and this summer will be no exception. We can cater to events for any occasion, including birthdays, weddings and anniversaries. After a difficult 2020, simply getting through the year is a cause for celebration! We can cater indoors or outdoors and for any number of guests.
Corporate catering
Successful corporate catering can help your business to continue running smoothly. Whether you are hosting a seminar, staff party, or formal evening dinner- we have a menu to suit your needs. Every business is different, so our catering packages can be tailored to meet your needs.
Wedding catering
Every aspect of your wedding should be personal to you, and we know that no two weddings will ever be the same. We have 7 different wedding packages on offer, ranging from a buffet lunch to a sit-down meal followed by an evening buffet. The catering you need for your wedding depends on your duration, budget and party size. Once you know this, we can get to work planning your perfect wedding menu!
Can't wait till summer to get your Hog Roast Laxton fix? Don't worry! Right now we are offering our gourmet meal delivery service, where you order your meals and we deliver them straight to your doorstep, in a contact-free drop off. This keeps everybody safe, but still provides you will your fix of delicious Hog Roast Laxton meals! Get in touch today to find out how to order your food for delivery.