With a Hog Roast Aynho standalone menu, we can make it even easier for you decision-wise when catering your special occasion. While some of our standalones give you choices to make, like our Southern Slow Roast, where you select three meaty mains from a possible five and four hot or cold sides from nine, others are set menus all ready for you to enjoy, such as our Alfresco Menu, which features antipasti meats, cheeses and artisan breads, a hog roast main and two desserts.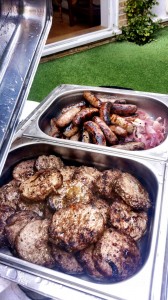 As you can see, Hog Roast Aynho is more than just our signature traditional hog roasts, and we offer so much choice and variety so that everyone invited to your next party or event can dine on delicious food that suits their personal tastes and also caters to particular diets. Spit-roasted turkey, lamb, beef or chicken or a barbecue of your favourite meats may well be your preferred main or you may need vegan or vegetarian options to satisfy some of your guests. Whatever floats your boat and whatever ensures that everyone can feast on fresh, homemade food, our catering is the perfect solution.
We also offer plenty of options in case you're planning a menu of several courses, with all kinds of scrumptious starters, sides and desserts, both hot and cold, and we can even whip up some of our lovely handmade canapés, such as pan-seared fillet of beef, roasted halloumi and tomato crostini, chicken liver parfait or beer-battered mini fish and chips. Whether you're after a main and nothing else, like one of our famous hog roasts made into pigs in buns, or a huge menu with course after course until everyone's full to the brim, we've got you covered.
Our highly-trained and experienced Hog Roast Aynho experts can easily help you to make lots of long-lasting memories together with your guests, regardless of whether we're catering a casual birthday celebration for you and a few friends in your back garden or a posh wedding or corporate function with hundreds of guests in a luxury venue. Call us now and we'll help you to decide on your dream menu!