As one of the top-rated catering services in the vicinity of Northamptonshire, Hog Roast Bulwick is dedicated to providing our customers with succulent, slow-roasted hog roast recipes, each of which is hand-produced by our team of expert chefs who use only the finest, farm-fresh ingredients that are available to us, to create those popular, lip-smacking flavours that our clients love so much.
But as well as our signature spit-roasted pigs, we are also proud to offer a range of fully comprehensive dining solutions, which cater to a variety of dietary needs; including those with food intolerances and restrictions, vegetarians and even vegans. Because we offer so much more than just hog roasts, you can relax knowing that your whole family will be well taken care of by our team of catering specialists; and that even the most selective eaters will be able to find something tasty to indulge in when we're in charge!
Above all else, we place the satisfaction of our customers and clients at the core of everything we do here, so you can always guarantee that our team will go above and beyond to ensure that your event runs smoothly from beginning to end.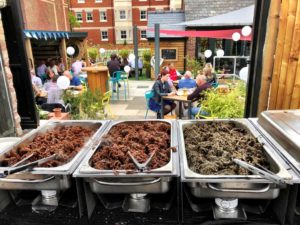 So, as we gear up for June the 21st, (A.K.A. lockdown's predicted end date!) now is the perfect time to start planning ahead for all of those important celebrations between this year and next. And remember, Hog Roast Bulwick's catering managers, Ben and Beth are always here to answer any questions you have surrounding our services, and they'll even be able to help you structure your very own custom menu – if that's what you choose.
Having been in the hog roasting business for years, Ben and Beth have delighted many customers, clients and countless guests with their extraordinary cooking abilities and approachable attitude, which makes them the ultimate duo for handling whatever event you have in mind this summer.
So, whether you're planning to get hitched after months of delay or celebrate with extended family following a year-long separation, you can trust that the Hog Roast Bulwick team will do your event justice.