If you're planning a party and want to serve your guests' food that not only tastes delicious but also looks the part, then search no further than Hog Roast Broughton! Serving mouth-watering food is where we excel, which is why we are known as Northamptonshire's favourite mobile hog roasting service – and we have been since our inception!
As an added bonus, the theatrical element of our hog roasts never fails to enthral guests and provide some unique pre-dinner entertainment, which always gets the conversation flowing. This was no truer than when we attended one of our most recent events; a 50th birthday party that was hosted by our client, Joanne.
Joanne's celebration took place at a recently renovated 1800's style home in nearby Kettering. The house was gorgeous and full of character, plus, with lots of garden space for us to make use of, our Hog Roast Broughton gang had no trouble setting up the catering equipment and serving tables.
Working hard to impress the 40 guests who had been invited to join in the birthday revelry, our catering manager, Ben, prepped the full-size pig by immersing it in homemade sage and onion stuffing. After scoring the skin, rubbing the meat with salt and dousing it in water, he then left the pork to cook thoroughly for several hours until it was good and crisp on the outside and deliciously tender on the inside.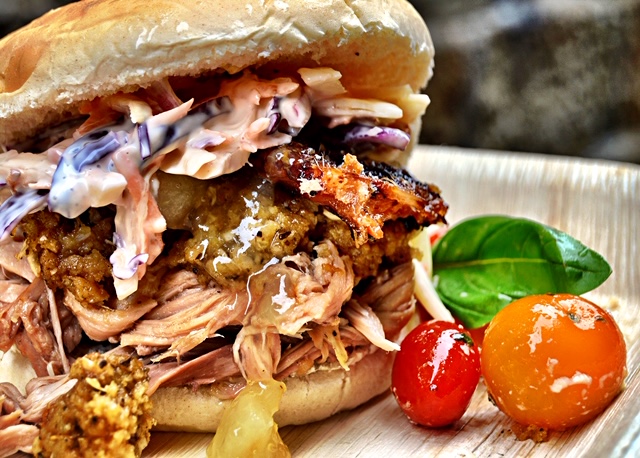 Watching the cooking process had the guests asking all sorts of questions about hog roasts, such as their history and the equipment Hog Roast Broughton uses to create our scrumptious hogs, which Ben was all too happy to answer! They spent hours talking about the ins and outs of hog roasting with him as they sunk their teeth into the perfectly cooked pig, which paired beautifully with the coleslaw and salad options our team had prepared for the occasion. On top of that, we served butchers sausages and a meat-free option of grilled vegetable and halloumi kebabs for the non-meat-eating guests.
All in all, Joanne's event couldn't have gone better and everyone had a splendid time thanks to Hog Roast Broughton!